---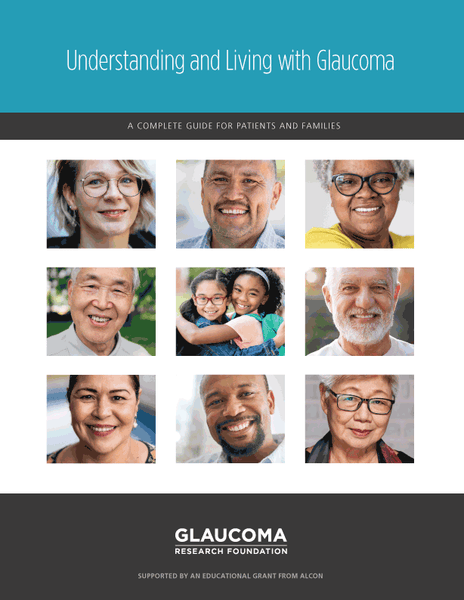 A comprehensive glaucoma guide for patients and their families. 40 pages.

This updated edition Includes detailed and unbiased information about glaucoma including:
Understanding Glaucoma
Understand the Eye to Understand Glaucoma
How Glaucoma Affects the Eye
Who Gets Glaucoma?
Are There Symptoms?
When Should You Get Your Eyes Checked For Glaucoma?
Different Types Of Glaucoma

Primary Open-Angle Glaucoma
Primary Angle-Closure Glaucoma or Narrow-Angle Glaucoma
Other Types of Glaucoma

Normal-Tension Glaucoma
Secondary Glaucoma
Detecting Glaucoma
How Is Glaucoma Diagnosed?
What To Expect During Glaucoma Examinations

Tonometry
Ophthalmoscopy
Perimetry
Gonioscopy
Pachymetry
Treating Glaucoma
Treatment of Primary Open-Angle Glaucoma

Selective Laser Trabeculoplasty
Glaucoma Medications
Incisional Surgeries
Unapproved Treatments

Treatment of Primary Angle-Closure Glaucoma
Treatment of Other Types of Glaucoma
Frequently Asked Questions
Living With Glaucoma
Working With Your Doctor
Responding to Vision Changes Due to Glaucoma
Questions for Your Doctor
Your Lifestyle Counts
Looking Ahead
Appendix
Patient Notes
A Guide To Glaucoma Medications
Glossary
65 booklets per box. Price covers shipping, handling, and storage fees. Please note that we only ship within the United States.
Please allow 2 to 3 weeks for delivery.